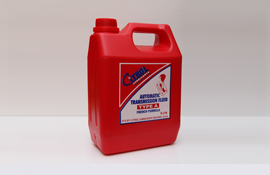 DESCRIPTION

CITROL ATF is formulated to meet the General Motor's automatic transmission fluid Type A Suffix A specification. This fluid imparts antioxidation, anti-wear, dispersancy, defoaming and desired friction characteristics. Due to its high viscosity index and low pour point it assures quiet and smooth operation of hydraulic equipment under all climatic conditions. It is a fluid with low co-efficient of friction thus permitting clutch plates to engage slowly and gradually as the transmission shifts. The fluid is compatible with seal materials, generally used in transmission systems.
APPLICATION
CITROL ATF is recommended for automatic transmissions and power steering units of automobiles and light trucks, where the manufacturer specifies Type A Suffix A fluid. It is also recommended for synchromesh gear boxes.
PERFORMANCE BENEFITS

Provides smooth, chatter-free clutch engagement and keeps automatic transmissions operating smoothly


Ensures long trouble free life of gears, bearings and other lubricated parts


Minimizes formation of sludge and varnish, thus maintains the system clean


Protects parts against rusting even during idle period.

PERFORMANCE STANDARDS



General Motor's Type A suffix A


Daimler Benz DBL 6623-10


TES-122 of DDA, a Division of GM, USA


TEML 03 of ZF, West Germany
TECHNICAL DATA
| | | |
| --- | --- | --- |
| S.NO | CHARACTERISTICS | TYPICAL VALUE |
| 1 | Sp.gravity @ 15 ° C | 0.875 |
| 2 | K.Viscosity @ 40° C,cSt | 47.5 |
| 3 | K.Viscosity @ 100° C, cSt | 7.20 |
| 4 | Flash point ,coc, ° C | 220 |
| 5 | Viscosity Index | 130 |
| 6 | Pour Point, ° C | -27 |
| | | | | | |
| --- | --- | --- | --- | --- | --- |
| Packing : | 1 Ltr | 4Ltr | 5Ltr | 20 Ltr | 208 Ltr |